To many Jeep owners, this isn't even a thought, you just do it (lift first…ask questions later). Truthfully, that's what I did. However, I'd encourage any new Jeep owner to step back and think about whether a lift kit is REALLY the right decision for them before taking the plunge.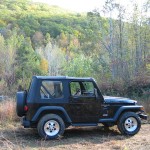 Why, you ask? Well, for the uninitiated, lifting a Jeep typically isn't as simple as bolting on the kit and then living happily ever after. Suspension lifts, specifically, will change the geometry of how your suspension was originally designed to work. I won't bore you with the specifics of control arm length, alignment specs, and pinion angles, but suffice to say that you'll be tweaking all of these at some point after your lift (something the catalogs forget to mention in their marketing copy). So, learn from my experiences young Padawan, and hopefully you'll save some cash and frustration along the way.
Here are some things to think about BEFORE you purchase a lift kit for your Jeep:
Research: make sure you do your homework before you buy. Read lift kit reviews, ask questions on forums, and quiz other Jeep owners about their lift experiences. If you've got a buddy (or club member) with a lifted Jeep, ask them to take you for a ride. Keep in mind that some Jeepers automatically think that the lift in THEIR Jeep is the best lift going….so make sure you talk to a few different people. 🙂
Driving Habits: do you plan to take your lifted Jeep offroad regularly, or do you simply want to throw on your Jonas Brothers t-shirt and park out infront of Abercrombie & Fitch? If you want a "mall crawler," hey that's cool (everyone's welcome here), but just be honest with yourself. If your Jeep will only see the pavement, you can probably deal with a budget lift, stock gears, and 33s. However, if you plan on aggressively hitting the trails, you're bound to be disappointed pretty quickly with a setup like that.
Budget: how much are you willing to spend? You can spend as little as a few hundred or as much as several thousand dollars on the kit alone. However, don't forget about other items that you "may" end up needing/wanting after the fact such as: control arms, longer brake lines, adjustable track bars, slip yoke eliminator (SYE), new driveshaft, bigger tires, new wheels, gears, stronger axles, better steering components, etc. $500 will suit some people just fine, but others may have higher expectations and should wait until they can save up some more cash. Make sure your expectations are inline w/ your budget.
Lift Kit Choice: there are tons of options out there such as short arm lifts, long arm lifts, coil spacer lifts (aka: budget boosts), and body lifts. Within those options, some kits are much more complete than others. For example, you can buy a 4-inch lift kit that comes with the bare minimum of coil springs, shocks, a transfer case drop, and a track bar relocation bracket. Speaking from experience, you can "get by" with a kit like this for while, but you'll most likely end up spending more money later b/c of vibes and limited performance. Admittedly, I went this route in the beginning, but ended up spending significantly more money later on to correct driveline vibrations and poor handling. I ended up purchasing adjustable trackbars, SYE, new driveshaft, adjustable control arms, better shocks, better quick disconnects, etc. At the end of the day, I spent more money adding to my "basic" kit than I would have spent by buying a fully-equipped kit in the beginning. Some of this will come down to personal preference though. Not everyone will be comfortable with (or can afford) spending $2,000 on a kit right out of the blocks. Sometimes you may need to start with the $500-$600 kit b/c that's all your budget (or gf/wife) will allow. 🙂 I'll just remind you again that you need to set your expectations appropriately and understand how much money you "may" need to allocate to additional accessories later on.
Jeep Performance & Road Manners: the right lift kit can really unlock your Jeep's offroad potential, but it will also change your onroad handling as well. Again, think about your driving habits and make sure your prospective mods make sense for you. If you use your Jeep to commute 50 miles to work each way, the 6-inch lift, 35″ boggers, and 3.08 gears might not be the best option.
The Side Effects: as I alluded to earlier, lifting your Jeep and adding larger tires will change your ride and will most likely cause some annoying side effects. Some of the "fun" things you may experience are driveline vibrations, worn steering components, poor handling, tires that won't balance 100%, etc. I'm sure some people will chime in and say that their Jeep rides better than stock after the lift and that they've never had any problems whatsoever. That may be true, but just search a few of the Jeep forums for keywords like "death wobble," "wandering," "loose steering," "____ after lift"….this will give you an idea of the challenges that many lifted Jeep owners are dealing with.
Conclusion
So, this probably sounds like I'm telling you not to lift your Jeep, huh? No, that's certainly not my goal here. I just want to give full disclosure on the pros and cons of lifting. I lifted my own Jeep several years ago and I would certainly do it all over again (I might choose some different parts, but I'd definitely still lift it). My lift, tires, gears, (and now lockers) have pushed my Jeep well beyond its original capabilities…it really is a blast to drive on the trails. However, my Jeep has certainly brought its share of headaches along the way (some b/c of the lift, and others b/c it's simply a "Jeep"). But, I think that's the life of a Jeep lover. I sometimes compare it to playing golf….you can have the worst 17 holes of your life, but if you birdie the 18th you can't wait to get back on the course. When the doors are off my Jeep, there's mud on the windshield, and I've just conquered a tough trail…I forget all about the previous steering box replacements, death wobble, burning brakes, crappy starter motors, and electrical demons.
Got some other suggestions about choosing the right lift?….please share w/ everyone in the comments.