If you've got an old Jeep, or you live in a snowy region, you can be pretty sure that you're going to deal with rust at some point.  I live in New England, so unfortunately I gotta deal with salt.  Helpful tip-  margarita on the rocks w/ salt = tasty….Jeep on the rocks w/ salt = rusty.
In my case, my Jeeperman rocker guards were thrashed.  My rocker guards came from Jeeperman with a black powder coat on them (my first mistake).  I learned the hard way that powder coating and New England winters just don't mix. I think my rocker guards lasted about 2 months before they started bubbling and peeling.  The powder coating on my Skid Row Engine Skid lasted a little longer, but wasn't too much better.  I now avoid powder coated parts whenever possible.  No sense paying extra for this stuff when it doesn't even last a year.  FYI, if you're buying bumpers, rocker guards, or skid plates most of the smaller manufacturers will ship them to you bare.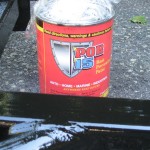 So, how do you stop rust from overtaking your Jeep?  I've found that POR15 is a pretty good solution.  POR15 is a special rust preventative coating that can be applied directly to rusty surfaces (according to their marketing materials anyway). It's not as easy to apply as they lead you to believe, but I'll get to that later.  POR15 isn't like normal paint. When it dries it turns into a hard, plastic-like surface that's much more durable than ordinary paint.  It's also supposed to prevent future bubbling and rust spread because of the way that it chemically bonds to the metal (so far so good in my case).
Apparently, the "POR" in POR15 stands for Paint Over Rust.  "Paint over rust? That's f-ing great, you say!  My Jeep is a rusty mess, I'll just splash this stuff everywhere and be done in no time."  Not so fast there young Skywalker!  If you think you're going to avoid all the crappy prep work that comes along with regular paint, you're sadly mistaken.  Ok, I'll admit, I originally had delusions of splashing this stuff everywhere. Maybe I even thought about a bikini POR15 car wash…but then I read the fine print.  Basically, you don't have to get your parts down to bare metal, but you do need to make sure that all of the flakey rust is cleaned up and that all surfaces are clean and degreased (not an easy task on an old Jeep).
Here's a quick recap of my POR15 prep work (not as easy as I'd originally hoped):
Sandblasted the power coat off my parts.  It would have taken me days to get the old powder coat off by hand (keep that in mind).  I even tried a wire wheel on a power drill, but that didn't help much. Sandblasting cost me about $75 at a local shop (well worth it IMO)
Cleaned parts with a degreaser to remove any grease and oil (this step wasn't critical for me b/c my parts were freshly sandblasted).
Sprayed all surfaces with Metal Ready product from POR15.  Metal-Ready is recommended before applying POR15 paint to galvanized metal, aluminum, stainless steel, or smooth metal surfaces. Basically it preps the surface and helps POR15 adhere better.
Thoroughly rinse all parts with water after metal-ready application.
Wait for all parts to completely dry out
Once the prep work is complete, you're ready to apply the POR15 paint.  For the application, I just bought a couple of cheap paint brushes.  You can also spray POR15 if you've got a sprayer, but that was a bit too involved for me (you need to use thinning agents so the gun won't clog).  I applied 2 coats of POR15 (it took about 4-5 hours to dry).
It's important to note that I also needed to paint over the POR15 once I was all done.  "WTF?," you say.  Yeah, apparently POR15 doesn't hold up well to direct sunlight (UV rays break down POR15 and will eventually cause it to fail).  My rocker guards are definitely exposed to sunlight, so I top-coated them with a flat black Rustoleum spray paint.  I didn't bother spray painting my engine skid…it'll only see direct sunlight if I roll the Jeep (hoping that doesn't happen in the near future).
Summary
Pros of POR15:
•    Solid, durable finish
•    Stops rust from spreading
•    Can be painted over "imperfect" metal
•    Low maintenance
•    Finished surface comes out surprisingly smooth (even if you brush it on)
Cons of POR15:
•    Expensive:  costs about $45 for a quart
•    Must be top-coated if your parts will see direct sunlight
•    Can't be stored very long once the can has been opened
•    Prep work takes time (similar to regular paint job)
Project Tips:
Only buy enough POR15 for your job size. POR15 is expensive and it doesn't last too long once the can is open (mine started to harden after a few weeks).  I bought a quart, but probably only needed a pint..the rest went to waste b/c it hardened in the can.
Cover ALL of your bare skin before you start painting w/ POR15.  Once you get it on your skin it's really hard to get off (esp. if it dries). Keep some rubbing alcohol or similar product handy so you can remove any drips from your skin immediately. Rubber gloves are strongly recommended.
Be careful to avoid painting bolts that you may need to remove in the future. Once POR15 dries, it will act as a thread-locker on your bolts. I break enough bolts on my Jeep as is (don't need more help here).
Wear a good respirator if you're painting in a garage or other closed area (the fumes are quite strong).
Save time by hanging parts (the light ones) from your garage ceiling so you can paint both sides in one shot.  Old coat hangers worked well for me.
Conclusion
So, now that it's all done, was it worth it?  In this case, I'd say yes.  I think it really depends on what type of parts you're painting though.  For me, my rocker guards and engine skid are a pain in the ass to get off the Jeep.  I'm happy that I won't have to worry about rust on these things for while (with regular paint I'd probably have to remove them and touch them up every year).  When I get scratches from the rocks, I just hit them with a rattle can (POR15 keeps scratches from turning into a rusty cancer).
Got tips on how you've rust-proofed your Jeep? I'd love to hear them! Please share in the comments below.