Home > Jeep Wrangler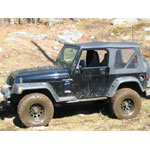 Jeep Wrangler
The Jeep Wrangler hit the market in 1987 with the introduction of the YJ (easily recognized by its rectangular headlights). The Jeep YJ lasted until 1995 and was ultimately replaced by the TJ in 1997. The TJ came with a coil-sprung suspension (and redesigned interior) which was a big change from the leaf-sprung YJ platform. After the TJ came the LJ (aka Jeep Unlimited) which offered an extended wheelbase and extra cargo room. The Wrangler was updated once again in 2007 and the new version was dubbed the Jeep JK.
Jeeps For Sale
Notice: Undefined variable: itemname in /home/httpd/vhosts/jeepreviews.com/httpdocs/buynow/ebay_phpbay-skyscraper.php on line 23
No items matching your keywords were found.