Thinking about leveraging the government's rebate program to get yourself a new ride? Here are a few important facts that you need to know.
Your turn-in vehicle needs to be a maximum of 25 years old
Turn-in vehicle fuel mileage must be a maximum of 18 MPG – In the Jeep world, nearly all models will satisfy this requirement (e.g. Wrangler, CJ, Cherokee, Waggy, J Truck, Commander, Liberty). Let's face it, the majority of Jeeps get crappy mileage. It looks like the Compass and Patriot are the rare exceptions here since their combined fuel mileage (city & highway) averages over 18 MPG
The new vehicle you buy must exceed 18 MPG fuel economy
Your turn-in vehicle must have been registered and insured to you for the full year prior to your trade-in. So, for those budding entrepreneurs out there, you can't pick up a POS ride for $100 in the morning and limp it into the dealership in the afternoon for a $3,500 rebate. Likewise, you can't park your trailer load of crappy cars outside of the dealership and sell them for $2,000 to incoming car buyers who don't have a turn-in that'll fetch them $3,500 – $4,500.
The rebate program only applies to new vehicle purchases.
So, now that you know the basic requirements. Let's talk about whether this even makes any sense for a current Jeep owner.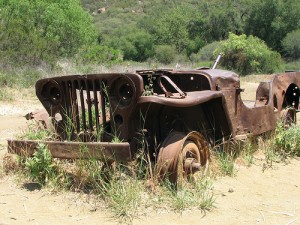 If you're looking to trade up to a new Jeep (anything besides a Patriot or Compass), you're out of luck b/c of the mileage requirements. Your Jeep turn-in would meet the mileage requirement, but the new purchase (Wrangler for example) would get less than 18 MPG…so, no soup for you!
Ok, let's talk a little crazy for a bit and assume that you're sick of your Jeep (gasp) and want to trade it for something with better fuel efficiency, inferior off-road capabilities, and a much lower fun factor. Does the cash for clunkers program make sense now? The answer is, maybe. I say, maybe b/c you really need to evaluate the current book value of your Jeep and see if a turn-in would actually make financial sense for you. For example, my 1998 Wrangler w/ 120,000 miles on it still has a book value of roughly $5,000. $5,000 is higher than the govt rebate, so I'd actually lose money if I did this deal….not to mention that my Jeep has lockers, new gears, and a bunch of other goodies that aren't reflected in a book value from Kelley Blue Book or NADA, for example.
So what's the bottom line here? If you're looking to buy a new Jeep, the cash for clunkers program probably isn't going to be much help b/c 90% of new Jeep models don't meet the fuel efficiency requirements. If you've had enough and are looking to get out of Jeeping altogether, cash for clunkers "could" benefit you as long as your current Jeep has a book value < $3,500 and your new vehicle has fuel economy greater than 18 MPG. My (unbiased) recommendation: buy the new car you've had your eye on and save your old Jeep from the car crusher….turn it into a trail rig and wheel it like you stole it. 🙂
Have you had positive or negative experiences with the new cash for clunkers program?…please share in the comments.